MEDIUM FORMAT
120mm RANGEFINDER CAMERAS
FUJICA cameras
FUJICA GS645W, 45mm F5.6 Fujinon-W, multicoated, built-in lightmeter, accepts both 120/220 films. helical focusing mount; no bellows to go bad! Mint-, with case, cap, instruction book, $720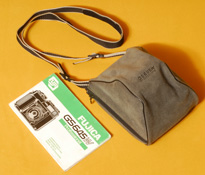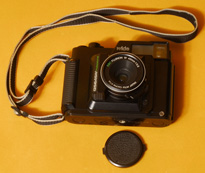 VINTAGE PLAUBEL MAKINA accessories
Plaubel Makina IIIR brochure, ~12 pages, copy, $20
Plaubel rollholders, Makina IIIR vintage, 6X6, VG, $100 each, 6X9, Mint-, $300 each, 35mm, Mint-, $300, Ex, $150
Plaubel Makina (vintage 1955 and earlier) automatic rollholder instruction booklet copy, $10
Plaubel Makina IIIR vintage lenscaps, to fit Plaubel lenses of about 45mm outside diameter, matt Aluminum with Plaubel logo and felt lining, Ex+, $30 each, 2 available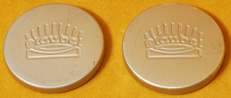 Plaubel Makina IIIR vintage 3 C-cell barebulb flashgun, labeled "Plaubel, Frankfurt a. M.", Mint-, $75

GRAFLEX XL equipment on Graflex XL web page.
120 SLR's
---
HASSELBLAD
The whole Hasselblad system remains as useful today as the day it was made because these cameras will accept digital backs. Digital backs were made for the Hasselblad because it was and is a most professional system. This is a really big deal. Many digital backs were made to fit directly onto a Hasselblad. With virtually all other medium format cameras, an expensive adapter is required. An adapter in the system is a source of play and misalignment. In case you are thinking of using the below listed SWC as a body that accepts a digital back with the lens of your choice, the distance from the body front chrome lens mount to the film is about 32mm. For instance, if you wanted to use a Nikon lens on the body, Nikon mount to film distance is 46.2mm That gives you 14mm to spare.
HASSELBLAD SUPER WIDE, '56 body with 12 exposure rollback, w/o lens or focusing mount or shutter or viewfinder, knob advance only, accepts old style cable release only, shutter release below lens, bubble level on top, 1/4-20 TPI tripod socket only, $OLD, lens still available: The lens was mounted onto a Sinar Handy which you will find on my Sinar list. The lens and focusing mount may be put back on a camera. The last 2 images are of the Sinar Handy and an image made with it.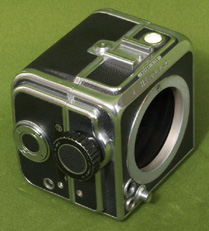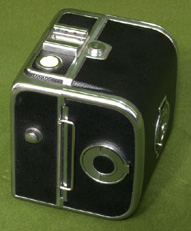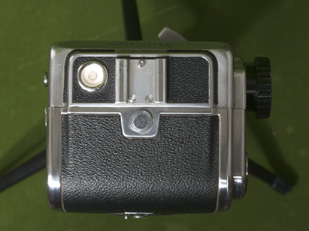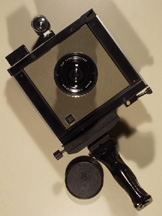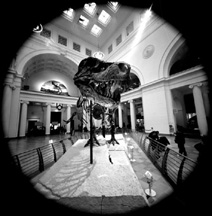 HASSELBLAD 500C/M '74 black body, matching black folding focusing hood with scratch in magnifying lens, plain focusing screen, moderate wear on light trap, otherwise Ex+, $450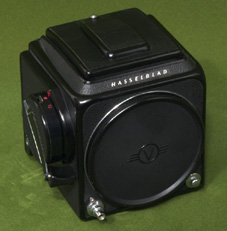 HASSELBLAD 500EL '69 body, plain focusing screen, charger, battery, 50' electric release on windup reel, slight wear on light trap, otherwise Mint, $525. The charger with this is special: HASSELBLAD 14 HOUR CHARGER, for one or two batteries, with timer, also serves as battery eliminator/AC adaptor.
HASSELBLAD 120MM F5.6 S-PLANAR, chrome, bayonet case for lens, VG 120150 lensshade, 4 Hasselblad bayonet filters (Red, 6X, Green, 1.5X, Yellow, 1.5X, and Yellow-Green, 1.5X), newly cleaned, lubed, and adjusted shutter, Ex+, $1000 Note: these items are packaged together because they work so well together and because they are not nearly so useful to me indivudually.
AGFA COLOR-MAGNOLAR 105mm F4.5 coated enlarging lens in high quality helical focusing mount on lensboard for Agfa Varioscope 60 enlarger. Clean glass. A Schneider lens cap fits it and is included with it; very likely it is a Schneider lens. Mounted with 4 screws. Would be easy to mount to any flat lens board. Would make a great macro lens for a camera. Would allow you to use the lens on enlargers that a lens w/o a focusing mount would not work upon. Diaphragm has click stops. I have considered mounting the lens on a Hasselblad or a Pentax 6X7. $300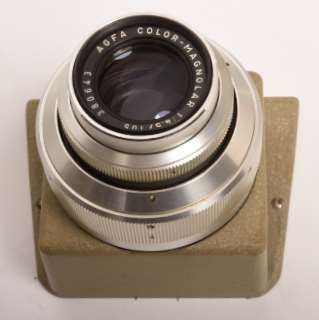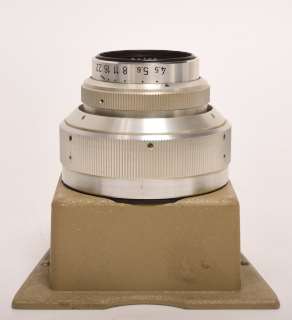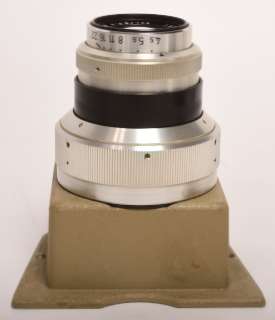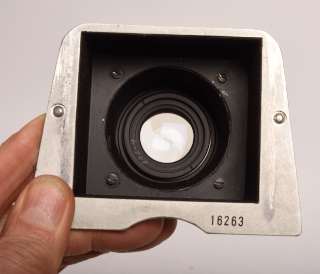 HASSELBLAD A12 ROLLBACK, all black, chipped paint around corners, perfect mechanically, boxed, Ex+, $300
HASSELBLAD 12 ROLLBACK, chrome, with non matching (serial numbers are different, but they match cosmetically and work smoothly together) insert, Mint-, $250
HASSELBLAD 12 ROLLBACK, chrome, Ex+, $250
HASSELBLAD 12 exposure back, Mint-, $250
HASSELBLAD A24 exposure back, chrome, Mint, $450
Hasselblad digital or film adapter carrier frame. This is a partially completed Hasselblad adapter. It could be used as a rear carrier frame for a view camera such as the Plaubel Peco Jr. or some other small format view camera. The back side has 2 light trap ridges to mate with the corresponding depressions on the film back. Connecting hardware will need to be added to hold the back on the camera. It will need to be black anodized, maybe even flocked on the front side. Many of the earlier megapixel backs were designed to fit the Hasselblad and can be had for very reasonable prices. The Hasselblad is still just a box camera, however. Mount this carrier frame on a view camera rear standard and you will have something. You cannot take a box camera image and transform it using Photoshop without losing quality. You have to make your camera adjustments in the camera to achieve professional results. A lot of work went into machining this. It is a bargain @ $200
Hasselblad folding focusing hood, Mint-, $50
Hasselblad NC2 prism, with rubber eyeglass ring, perfect glass, no dings or dents, some slight scratches in paint, EX/EX+, $275
Note: If you've been considering a Kiev prism instead of an NC2, I suggest you reconsider. The Kiev prism is a loose fit. It rattles and can easily slip out when removing a film magazine.
Hasselblad NC2 prism, with rubber eyeglass ring, perfect glass, no dings or dents, some slight brassing and scratches in paint, Ex+, $300
HASSELBLAD PROXAR 1, f=1m, Mint, $80
HASSELBLAD series 8 or 63mm filter, light yellow, 1.5X, Mint-, $35
HASSELBLAD bayonet 50 filters, Red, 6X, Green, 1.5X, Yellow, 1.5X, and Yellow-Green, 1.5X, fit 80mm F2.8, 120mm F5.6 Planar, etc., Ex+, $50 each
HASSELBLAD BELLOWS w/shade, mask, slide copier, double cable release, Mint, $600. The first 7 images show what is included. The 8th image shows the bellows in use as a slide copy setup with a 500C camera body, back, folding focusing hood and 80mm lens, all of which are available separately, none of which are included.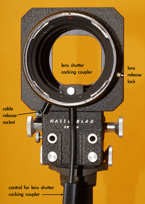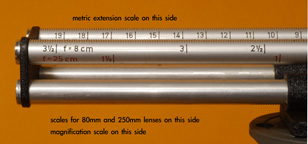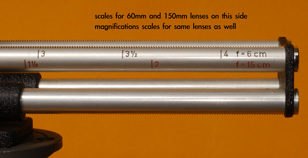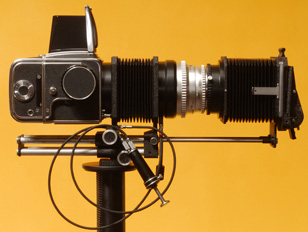 HASSELBLAD/SINAR/MP4: Hasselblad camera mount on rear of MP4 focusing bellows, Sinar carrier frame on front of focusing bellows. Designed for use with a Hasselblad 500 EL with a 21mm extension tube. Camera base slips into quickrelease mount and extension tube slips into machined plate at top of bellows assembly. Hasselblad is in perfect alignment when bellows assembly is in center detent position; it is possible to swivel whole camera/bellows assembly off center. Large MP4 bellows mean there will be no problem with image degrading light bouncing off the bellows. Designed for use with your view camera lenses on Sinar boards. See COPY CAMERA LIST.
HASSELBLAD side mount 80mm sportsfinder, boxed, Mint, $35
HASSELBLAD narrow strap, Ex+, $20
Polarizing filter, bayonet 50, Japan, Ex+, $25
Tiffen bayonet 50(?) for Hasselblad #820 to series 8 adapter, Ex, $50
Tiffen black anodized Alumnum series 8 (67mm) square with rounded corners lensshade, normal to long lenses, Ex+, $30, 2 available
Aluminum series 8 (~67mm) square with rounded corners lensshade, normal to long lenses, Ex+, $30, 2 available
Hasselblad 2.8/80 bayonet 50 lensshade, with lenscap that is designed to fit Hasselblad lenses 80mm to 250mm, model TH-20, $60
Hasselblad 2.8/50 lensshade, ~86mm threads, new-in-box, $50
Hasselblad 93/50 filter adaptor, for 2.8/50 lens, ~86mm threads rear, accepts 93mm filter, ~95mm threads front, new, $50
"Hasselblad Superwide C" instruction book, about 30 pages, Ex, $50
"Hasselblad 500C/M, 500EL/M and SWC/M" instruction book , about 32 pages, Ex+, $50
"Hasselblad 200FC" instruction book, about 25 pages, with several inserts, Ex+, $50
"Hasselblad Bellows" instruction book copy (original stays with the above bellows), $10
"Hasselblad Roll Film Magazine 12, 16 and 16S" instruction book, Ex, $5
"Hasselblad Quick Winding Crank" (for film magazine) instruction book, Ex, $5
"Hasselblad 500C, 500EL and SWC" product catalog, about 40 pages, Ex+, $30
"Hasselblad 500C and SWC" product catalog, about 25 pages, Ex+, $20
"Hasselblad 500C and SWC" product catalog, about 32 pages, Ex+, $25
"Hasselblad 500C and SWC" product catalog, about 15 pages, Ex+, $15
"THE HASSELBLAD MANUAL" signed by Ernst Wildi, 2nd edition, 1982, w
complete set of extension tubes including C-A adaptor, C-B adaptor, C-C adaptor and C-D adaptor, Mint-, $200
PENTAX 6X7 METERING PRISM. ACCURATE! CLEAN!. $300.
Pentax 67 6X7 one piece strap. $50.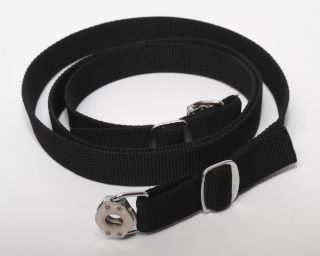 Pentax 67 6X7 three piece strap. $50.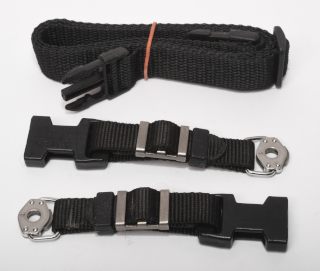 A NOTE ABOUT THE COUPLING OF THE PENTAX 6X7 BODY WITH THE METER PRISM. There is a finger in the meter prism that needs to couple with a corresponding receiver in the body. I am pointing to the receiver with an awl. The chrome finger is easy to see in the meter prism. If these do not couple your meter may appear not to work. If there is a lens on the body when you remove the meter prism, the receiver will not be in position to couple with the finger when you remount the prism and the meter will not work. The solution is to remove the lens, then mount the prism on the body. The finger is spring loaded and always goes all the way to the one end of the meter prism. The receiver is also spring loaded, but couples with the lens' F-stop. The receiver only goes all the way to the end when the lens is removed. The camera in this photo is serial number 4121509.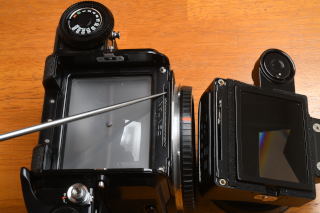 ROLLEI and other 120 TLR's, accessories
ROLLEIFLEX FRONT SURFACE MIRROR. A customer sent me his Rollei for cleaning, lubing and adjusting. The primary complaint was that the shutter was tired and sticky. I had that work done and looked over the camera as well. The customer did not even know that his viewing lens mirror was in such deteriorated condition. I photographed the original mirror in the camera. After installing a new mirror, I could no longer focus on the perfect mirror that only reflected light, but instead focused on the ground glass focusing screen. I had to cut down the strobe power by 1 1/3 stops to get the right exposure; that is how much light the deteriorated mirror was losing. I have additional mirrors in stock ready to ship to you for your installation @ $50, or I will install for you @ $100 including an internal cleaning of the upper chamber of your camera and I will also look over your camera as a whole and suggest any other work that may need to be done. I can also supply mirrors for other cameras. I have a mirror in stock for a 4X5 Super D Graflex SLR. I can custom cut mirrors for you. The mirrors in the photo appear blue because there is a protective covering on them; on top of the pile of new mirrors is the original deteriorated mirror. I cannot guarantee that the mirrors that I have in stock will fit your particular camera unless I install them as different models of cameras may have different mirrors.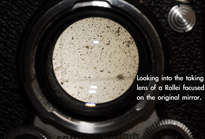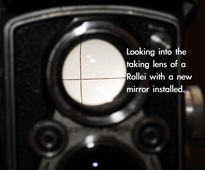 ROLLEI BAY 1 lensshade, case, room for 2 filters in case, case designed to mount on neckstrap, a little brassing on front edge, not at all bent, Ex+/Mint-, $55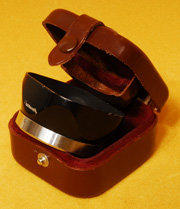 ROLLEI BAY 1 case for filter, case designed to mount on neckstrap, $10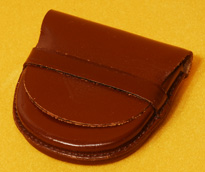 MAMIYA C330 65mm viewfinder accessory lens, Ex, $35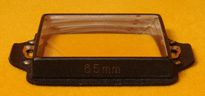 ROLLEI SLR accessories
ROLLEI CASE DIVIDERS AND FILTER HOLDERS. These case in with a modern Rollei SLR case. $30.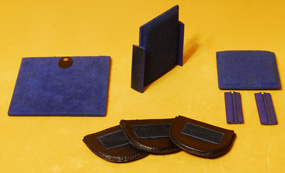 ROLLEI SYNC CORD. Bare wires at one end. $10.
PANORAMIC PANHEAD
Panoramic panhead, for segmented panoramics, has 6 click stops @ 60 degree intervals, 1/4-20 threads top and bottom, Delrin with metal camera stud, suitable for making segmented panoramics with 55mm lenses on 6X7cm, 65mm lenses on 6X9cm, 28mm lenses on 35mm, and other combinations in other formats, 1.2" tall, 2.64" diameter, 4 ounces, Mint, $125 Note: custom panheads also available. Want one with 4, 5, 7, 8, or any other # of click stops, 3/8-16 threads top and/or bottom, larger diameter--no problem. Illustrated is a 5 position panhead on a Dietzgen tripod (found on tripod list). So why would you want such an item? Because you can do panoramics with ease and precision. You could do the same thing with a degree marked pan head, but you would have to unlock the pan movment, walk around the tripod, visually set the camera position and relock the pan movement each time. With this panhead, you merely turn the camera to the next click stop and shoot. Foolproof! You can print the images and mount them side-by-side with space in between the images; this method results in no distortion. This method is much like looking out from a gazebo. The alternative is to shoot more images with a lot of overlap and stitch the images together in an image editing program; this result is much like shooting with a swinging lens camera or a rotating camera. You get distortion, but no space between images. Presently I have in stock pan heads with 4, 5, 6, 8, and 10 click stops. Although I could make a pan head with a large number of click stops that would give you several options, I do not recommend it because it would no longer be foolproof. The series of images below were made with a 55mm lens on a 6X7cm camera with a 6 position panhead.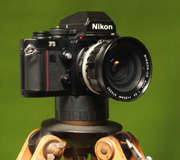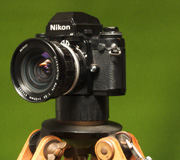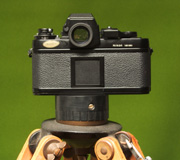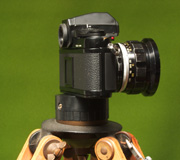 120 CUSTOM WIDEANGLE
with 58mm F5.6 Konica Hexanon lens in modern all black Copal shutter mounted on lenscone with 6X9cm Grafic rollholder and Konica optical VF. the most compact camera possible; the rear of the body is smaller than the rollback, tapering from the rectangular rollback to the circular shutter. Focused at the Hyperfocal distance of 15', the image is in focus from 4' to infinity @ F22, 2' to infinity @ F45. Lens is very soft at larger apertures and very sharp at smaller apertures, moderately sharp inbetween; where else can you find a soft focus wideangle lens. An excellent segmented panoramic camera--5 images gives you 360 degrees. Vignettes slightly at corners. Last 2 images were made with this camera. Weighs only 2#! VF sold. The accessory shoe remains. It is easy to make your own VF using a door viewer. $350.
Miscellaneous accessories
Camera bracket with Graflex flash D-mounts for rollei or other medium format camera. 2 to choose from. $30 each.

Heiland flashgun bracket with Heiland flash mount for rollei or other medium format camera. $30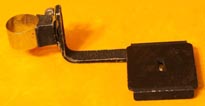 Graflex flashgun bracket for medium or large format camera. $30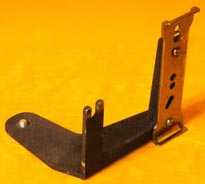 ---
about glennview, orders, inquiries
---
email to GLENNVIEW
---
return to the table of contents for glennview
---